As AI(Artificial Intelligence) and IoT becomes the predominating direction of future life, and as one of the core technologies, intelligent voice man-machine interaction becomes popular so quickly. Rockchip launches its AI Voice Assistant solution during Hong Kong Electronics Fair (Spring Edition) on April 13, 2017, which can be applied to smart speaker system. Dual core RK3036 and Quad core RK3229 solution, are for entry level, middle range and high end products respectively.
http://www.rock-chips.com/upload/media/RKspeakers.mp4
Three technical features of Rockchip AI Voice Assistant solution:
1. Support 1-8 DMIC array algorithm
2. Support global mainstream voice platform.
3. Support Linux/Android OS.

RK3036 supports 1/2/4*Mic and RK3229 supports 4-8*Mic in the aspect of hardware platform. Both solutions support source location, source reinforcement, echo cancellation and noise suppression technology in the aspect of voice algorithm. RK3229 takes the lead in supporting 8-line digital I2S digital directly connected silicon microphone, which not only saves cost, but also has compatibility for different microphone array algorithm and platform.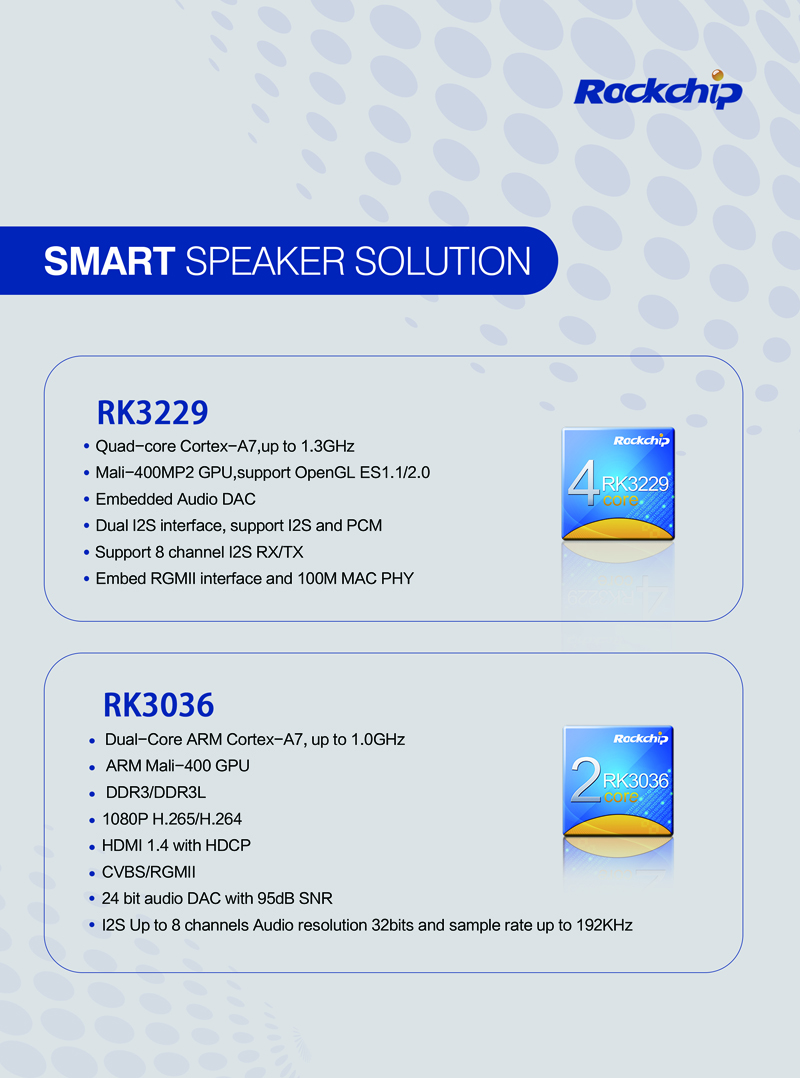 As the key technology in voice interaction, in the aspect of microphone array algorithm, RK3229 supports iFLY TEK, Liebao, AISpeech, SoundAI and Sinovoice microphone array algorithm; RK3036 supports Conexant two/four microphone DSP solution.

In the aspect of cloud semantics platform, RK3036 and RK3229 support global mainstream Chinese and English voice platform and provide several solutions for partners of industry chain. Aiming at Chinese semantics, Rockchip solutions support Liebao, iFLY TEK, AISpeech and LingjuAI; aiming at English semantics, Rockchip solutions support Amazon Alexa.

Rockchip RK3036 and RK3299 AI Voice Assistant solutions have stronger compatibility when they are applied to ecosystem. Music and IOT cover all applications in Liebao, iFLY TEK, AISpeech and Amazon Alexa. In the aspect of life service, the solution includes shopping (Amazon, JD), alarm clock, count down, taxi (Uber, Syscanner), information inquiry, YouTube video play etc, the advantage of platform is great.

Rockchip AI Voice Assistant solution also has large potential in the aspect of expansion of product modality. As it supports Linux and Android OS system, product can be developed vertically in intelligent field. In addition, Rockchip RK3036 supports multi-screen interaction, takes the lead in supporting H.265 video decoding and provides complete solution for TV screen projection bar.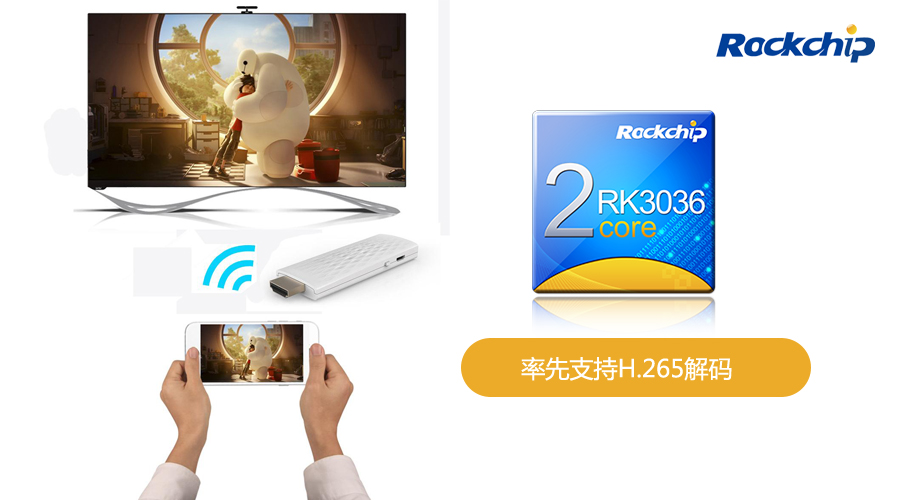 According to the data, it is estimated that market size of global voice recognition will increase to USD20 billion in 2020 from USD 6.19 billion in 2015. In the scramble of newly-developing market, the one which races to control the entry is the one seizes the first opportunity. As the important entrance, intelligent voice technology has become a hotly contested spot for giants in technology and household field, and voice intelligent speaker is a golden key for entering into intelligent household field.

Integration of interconnection and intercommunication, upstream and downstream supply chain, ecosystem, Rockchip will provide effective support for the landing of global AI technology in the aspects of technology, compatibility and extension